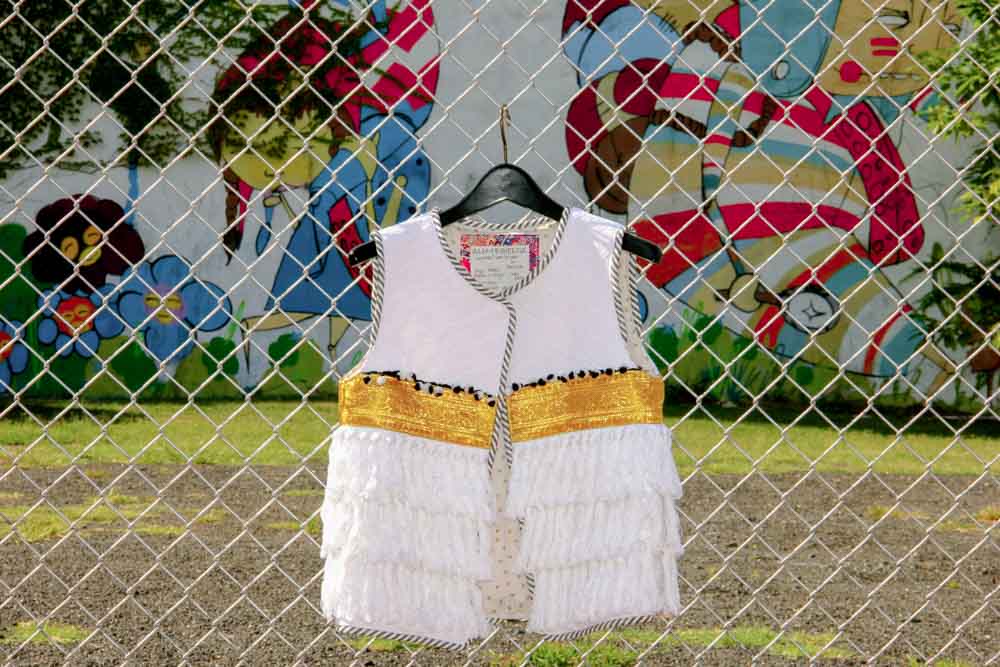 ART
I am in love with ALIX OF BOHEMIA. I ordered this waistcoat to be custom made and her work exceeded my expectations. Alix makes every piece by hand and no two items are ever the same. She is beginning to have huge success and it is well deserved. Her collection was recently featured on Moda Operandi and Bergdorf Goodman picked up many peices of hers this September.
"The offspring of an Italian textile legacy and generations of French artists, it was at University in Scotland that we were christened ALIX of BOHEMIA and began making clothes by hand. With wanderlust and gypsy blood in our veins, we make our clothes to suit the nomadic way: free loving and largely living. Now settled in the East Village in New York, look for us in a fabulous hat, taking our cues from the Psychedelic Sixties, Midcentury Bohemians and the Summer of Love to inspire the garments we make by hand in limited runs by appointment."
Her fashions target the "Hippie, Groupie, Fellow Free Spirit."
Here are links to similar waistcoats that I like:
Diva Embroidered Vest by Isabel Marant
Embroidered Wasistcoat by Talitha
POLITICS
Waistcoats, or vests, have been featured on the runways and in many stores the past few fashion seasons. I recall that last fall Zara had a waistcoat in a camel color that all of the style bloggers featured and it sold out immediately. It was a great piece and I think multiple people I know personally own it. The good news is that there are SO many more waistcoats available this fall.
Additionally, with throwback 70s fashion reigning on the runways during the current season, there are even more detailed styles of waistcoats available and many with bohemian flair. Waistcoasts can be very fun to wear and make any outfit come to life. Shorter people should be careful with the longer waistcoats because they can often overwhelm a small frame and make you look shapeless or larger than you are, neither is positive. This waistcoat can be great on many shapes and sizes because it actually hits at the waist.
ETIQUETTE
This specific style of waistcoat can dress up many outfits. You can wear it over a solid black dress, a bohemian flowy sleeved shirt (not a pirate shirt), and over an off the shoulder top to make it sexy. You can belt the waistcoat and add layers of bohemian necklaces and bracelets with multiple stone rings to finish off the look. A waistcoat like this one can go anywhere you want to bring a little bit of fun and energy.
I am planning to attend the Landmark Music Festival to benefit the Trust for the National Mall this coming weekend and I think this waistcoat screams festival fashion. This is definitely one example of a fun and appropriate place to wear this piece. As Alix herself says, her designs are for the groupie. Festivals definitely have their own dress code. That code can be defined as anything you feel like putting on your body and wearing in public, as far as I have seen. I do think the bohemian, artsy, free spirit vibe comes in big at a music festival.
As an aside, another thing important to note about music festivals is they are always muddy. I think DC is expecting some showers this weekend, so remember to wear wellies or boots like this pair and don't wear anything you don't mind getting a little messy! I have a friend who still has mud on her boots from Lollapalooze 3 years ago…
SPECIAL NOTE ABOUT THE TRUST FOR THE NATIONAL MALL

Help Save the National Mall and All It Represents
By participating in the Landmark Music Festival, you are helping the Trust for the National Mall — the festival host and an official non-profit partner of the National Park Service — raise awareness and funds to preserve the National Mall and its values for generations to come.
The music festival marks the launch of the Trust's new Landmark Campaign for the National Mall, a nationwide effort to engage the American public in the history and significance of the National Mall, which is home to our most treasured monuments, memorials and free speech grounds. And importantly, it aims to create a sense of stewardship and raise much-needed funds to sustainably restore the broken grounds and crumbling buildings of this iconic park.
I've personally been active with the Trust for the National Mall for the past six years in many Board capacities and believe that the people of DC should protect our national monuments for the benefit of both local residents and the rest of the visitors who travel lto DC from around the world.
Photo Information: This photo was taken by Jessica Mitrovich. The waistcoat was posed in front the Kelly Towles "Scout" mural at 12th and W Streets, NW. If you haven't figured out by my logo, I'm a fan of Kelly's work and think he provides some great contributions to the DC community. We are lucky to have good people like Kelly in this city.