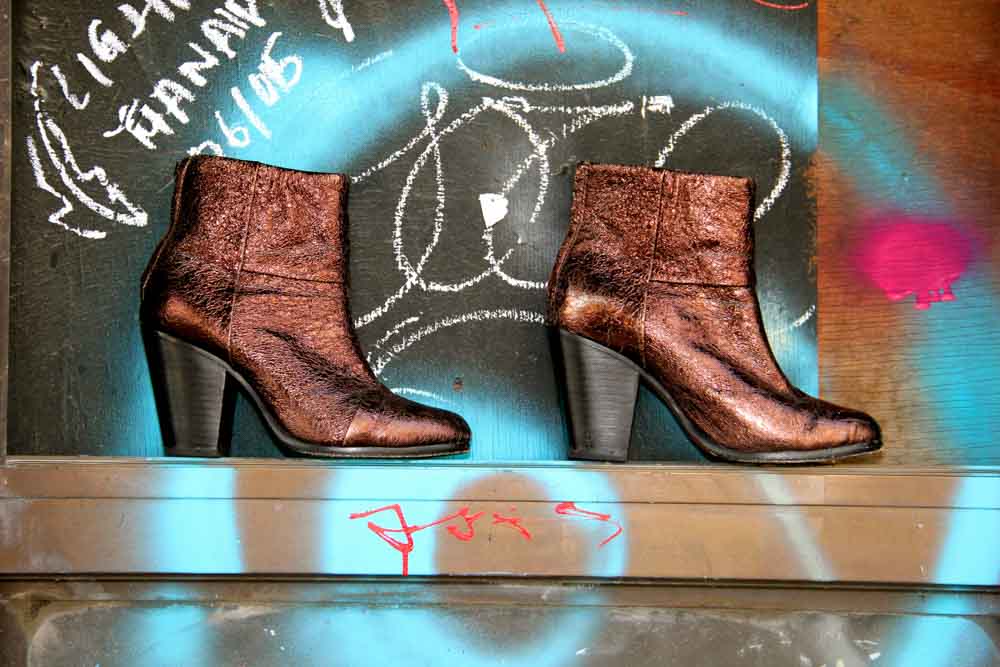 ART
by Rag & Bone
Marcus Wainwright and David Neville began the brand Rag & Bone in 2002 in New York. First launched in the fall of 2009, this style is called the Newbury and has been featured in every collection since its inception. This specific pair of Newbury boots is crafted with metallic bronze crinkled leather and is from their fall 2012 collection.
fall 2015 Newbury boots and similar styles:
POLITICS
Booties are a staple in any wardrobe and I would suggest that the Rag & Bone Newbury is the reason for this. I purchased my first pair of Newbury boots in the spring of 2010 in a gray linen color. The day I received those boots I put them on and wore them pretty much everyday until the winter of that year, when the snow and sludge prevented me having them on my feet. At that point in time I purchased a black leather pair and have had multiple pairs and colors in my closet ever since. The first couple of pairs set me back; fortunately these boots now go on sale, can be found at reduced prices on the Outnet, and I have even purchased a pair from Ebay for a huge discount (make sure you guarantee authenticity and the seller has a strong rating if you choose to go this route). These boots might be the most comfortable pair of shoes I have ever worn and known. I encourage you to try this specific style, but there are many booties you can find at all price points that are similar.
ETIQUETTE
Booties go with everything. You can wear them with jeans, suits, dresses, skirts, and shorts. You can wear them throughout the year and look extremely stylish without trying very hard. You can also achieve the slimming effect of having on heels without the pain of squeezing your foot into a pointy high, slim heeled shoe. A bootie can be dressed up and down. Booties can be worn to the office, out on date nights, for running errands, and are a staple at any music festival. I have even worn these booties to a black tie event. This pair of Newbury boots will be going to DC's Landmark Festival on September 26th and 27th to benefit the Trust for the National Mall, an organization very near and dear to my heart.
Photo Information: This item was photographed on 8th Street, NW close to a newly developing commercial and residential zone by Jessica Mitrovich.