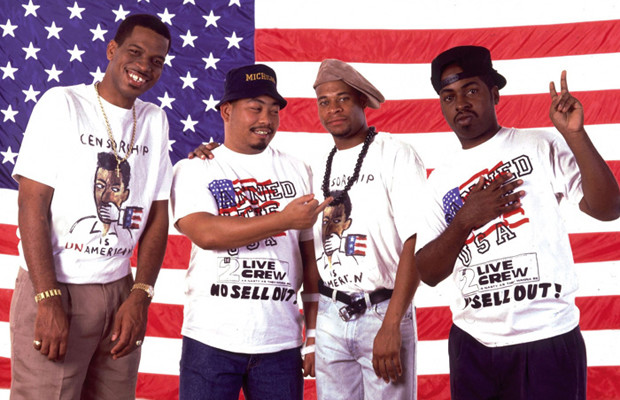 ART
Did you know that Rock the Vote has a prominent place in fashion history?! In 1990 artist Josh Gosfield designed this shirt for Rock the Vote in response to the music censorship mayhem taking place at that time in history. Think Rock of Ages (Broadway or film) if you are too young to remember this IRL.
This t-shirt helped mainstream a campaign to notify elected officials and parents that the First Amendment was written to protect free speech, including music lyrics. The t-shirt also encouraged civic engagement, voting and reminded Americans about the power of democracy. Not every artist chooses to have clean lyrics like Prince and musicians should be allowed to freely express themselves through their art. That sentiment was the general consensus of many voters and part of the genesis of Rock the Vote.
If you ever think your vote doesn't count, think again. As the Washington Post's Hunter Scwartz says very eloquently in his story from June 2015 on the history of music censorship and the anniversary of the 2 Live Crew arrest for their lyrics, "We were on a crash course with a future in which CeeLo's "F— You" was outlawed (the clean "Forget You" version only, please), Eminem could never have even been a thing, and Nicki Minaj and Miley could be jailed for twerking." Voting prevented these outcomes, that is powerful. Voting can protect your music options, human rights, personal wealth, health and well-being. These are all key reasons to register to vote and get out on election day and vote.
Last night to celebrate their 25th Birthday, Rock the Vote hosted a free party, open to the public at a venue in DC that is almost as old as Rock the Vote, Black Cat. 2 Live Crew reunited to perform some of their greatest hits. Darryl DMC McDaniels of Run DMC and local DMV rapper, Lightshow, also performed.
Rock the Vote has come a long way in 25 years and the organization and its mission is just as relevant and important now in 2015.
As an aside, I am someone that has a lot of friends with kids and I do appreciate the leadership of the Recording Industry Association of America in 1985 to come up with the "parental advisory label" idea, even though I did not as a kid. I wanted to buy a 2 Live Crew album so very badly at my local Sam Goody and it was all locked up with parental advisory stickers on it. I smuggled a copy of Banned in the USA from the super rad babysitter next door. This was the first album in history to bear the parental advisory label.
POLITICS
Rock the Vote is celebrating their 25th Birthday, I feel really F$*#ING old. In celebration their birthday, they have re-issued this amazing t-shirt.
T-shirt marketing is a very easy way to tell the world to "pay attention" to you and/or to a cause. Many non-profits, like Rock the Vote, will use tees to raise awareness of their organization and funds for the cause. Kitschy logos and graphics are also readily available on t-shirts to wear for fun and to express your identity. Urban Outfitters and Target are two places that come to mind that sell tees with loose expressions and logos. Political candidates have also gotten into the t-shirt game as a way to support their campaigns, and will sell them to raise money for their cause. The Obama for President Campaign even teamed up with major fashion designers to make their t-shirts more desirable to the consumer a.k.a. the voter. It's easier than ever to purchase a tee that says whatever you want with online stores offering inexpensive printing for a run as few as one tee.
Wearing at shirt with a message is a compelling fashion statement. Rock the Vote has an online store with many options to choose from. The t-shirt that I am featuring today was on sale at the Black Cat and will likely be available online soon.
ETIQUETTE
Wearing a t-shirt with a logo can be appropriate in many circumstances, depending on how you style it. By dressing up a t-shirt with fancy pants or a skirt and a blazer, you can really takes a t-shirt from streetwear to formal. You can even wear a fun tee like this under a suit for a relevant occasion. For other ideas see this post.
It's important to be thoughtful about the venue or event you are attending and the message of the shirt. For example, even if you want to wear a shirt with profanity or nudity, I would never recommend wearing this to tea at the Mayflower hotel. Use common sense, respect your setting and respect yourself.
BTW, I love the way Ashley Spillane, President of Rock the Vote, styled her shirt with a leather skirt – so chic!
Photo Information: Photo of t-shirt taken at L'enfant Plaza, a block from the Federal Communications Commission. I tried to take a photo closer because the FCC is the primary government entity that regulates broadcast content, but the security at the FCC wasn't having it. The photo of Ashley Spillane was taken at the Black Cat. Image of 2 Live Crew found on Discogs.
*T-shirt c/o Rock the Vote