ART
Dress by LOFT, Booties by Rag & Bone, and Necklace by Kenneth Jay Lane
LOFT was created in 1998 and is part of Ann Inc., the company that umbrellas Ann Taylor, Loft, and Lou & Grey. The clothing at LOFT is traditionally more reasonably priced that Ann Taylor. In fact with the ridiculous sales they have, you can get clothes for very inexpensive prices. Traditionally LOFT has not been a store I would associate with fashionable or stylish, I had always found it kind of frumpy. Recently LOFT is having a major moment. Everything in the store is trendy, fun, and I kind of want to buy it all. It's also a really great place for retail therapy because you likely won't break the bank shopping there.
LOFT is currently running a sale of 50% off of everything which includes the dress I am featuring on the blog today.
Here is a link to the dress featured today and other items from LOFT that I am loving right now:
Booties:
POLITICS
Today I am featuring an outfit that you can wear to work. I love the classic pinstripes on the dress, but the updated and very on-trend drop waist style. The drop waist is a rollover trend from spring/summer 2015 style. Drop waists are traditionally a challenge to pull off unless you do not have hips and are petite. The way that LOFT cut this dress is very flattering to most body types. I have hips and I am able to pull this dress off and its very flattering. The other amazing thing about this dress is that LOFT has cut it for petite and tall women.
I suggest styling this dress with opaque navy tights, black booties, a layered gold necklace or bib and put a black blazer on top for warmth.
ETIQUETTE
This outfit is conservative and tasteful for work and then easily transitions for a stylish night out on the town.
I recently wore this outfit to work and then out for dinner with some fabulous ladies. Here is a photo from that night. In this photo with me are two other DC women of style, Anchyi Wei and House of Pia. This photo was taken by the amazing Pamela's Punch at the Capella rooftop.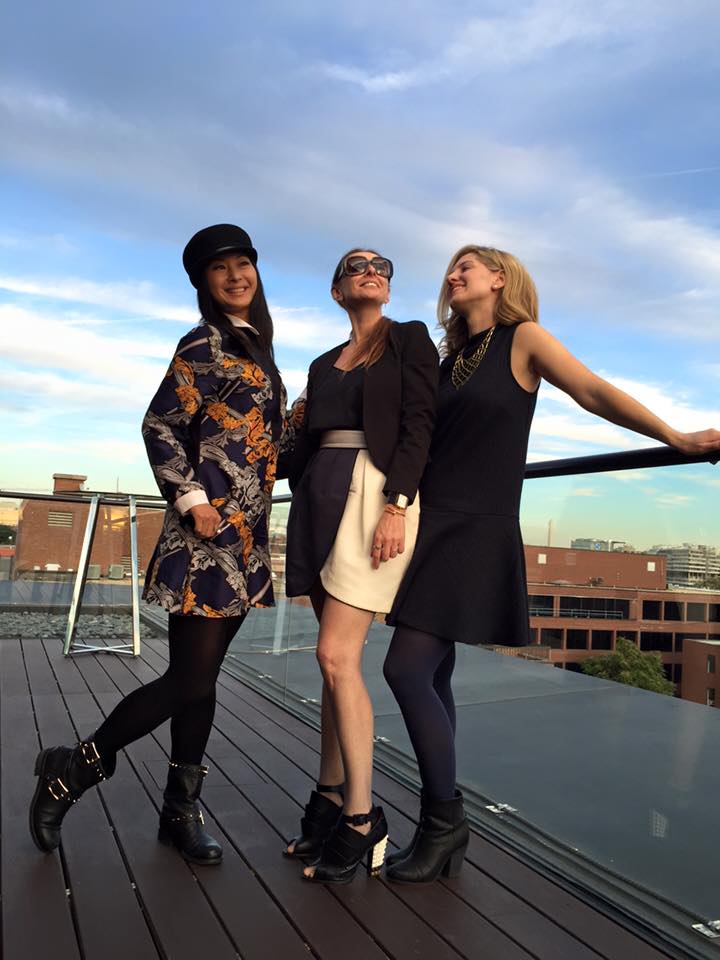 Photo Information: Fashion images were taken by DC photographer Bobby Spero. Thanks to the BP gas station in Shaw for letting us take photos during their busy Saturday hustle.