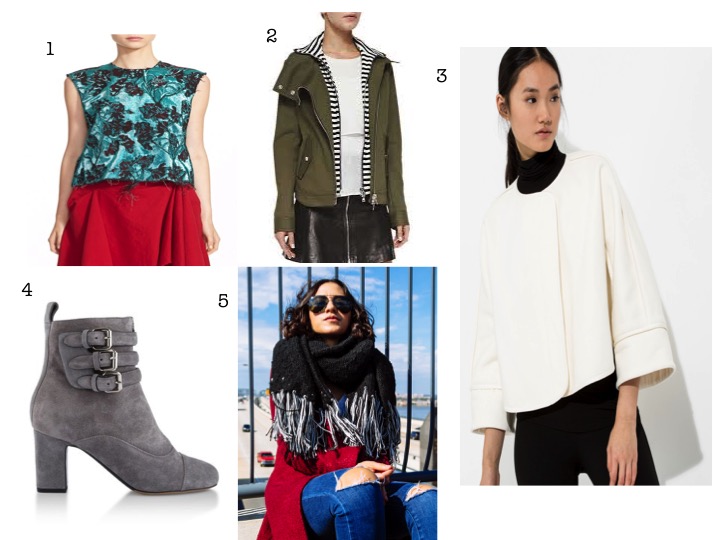 ART
One of my priorities with Politiquette is to ensure that I regularly highlight new or less known designers that you will want to be familiar with. It's exciting how many designers are having success these days thanks to social media and the internet. With so much success, it is definitely a challenge to stay on top of knowing who all of these great designers are. I hope this feature will help you with some of your fashion sifting.
Today I am highlighting five of my favorite designers that I have recently come across. Some of these designers have already been featured on Politiquette and others are designers I plan to feature in the future.
1) Marques Almeida. You will recognize this designer and top from my blog post on Wednesday. I can't get enough of how innovative and fun this designer is. I recently discovered that Relish in Georgetown carries this line. To see a great selection of their colorful denim pieces in person, you can check them out at this beautifully curated store in Cady's Alley. Plenty of online retail locations also carry Marques Almeida.
2) Veronica Beard. In 2010 two sister-in-laws, both named Veronica Beard, started this brand with the creation of the "Dickey" jacket. These blazer style jackets can all accommodate a "dickey" piece to make the jacket warmer, more versatile and fashionable. I have not yet purchased one of these jackets, but I know many stylish DC ladies who have a least one jacket and multiple dickeys in their wardrobe. This design is fun for work, work casual, weekend events and doing errands. Veronica Beard has a very great concept and product with these jackets.
3) Kit and Ace. Kit and Ace was created by the wife and son of the the founder of Lululemon. They call their fashions "technical luxury" made to be active in, but still luxurious. Most of their pieces have cashmere in them and feel divine to put on. I purchased a few of their tees when they had a pop-up shop at Union Market and have now taken to sleeping in them, because they feel that amazing. Their fashions are simple, but include just enough little details to make them special, chic and very stylish. I think this brand will do really well with the busy career women in DC who are required to travel often for work. Their new store just opened in the Shaw neighborhood. It's gorgeous, as is everything in their collection. I am definitely a huge fan and will continue to be a great customer.
4) Tabitha Simmons. There are SO many emerging shoe designers. It used to be only about Manolo Blahnik, Jimmy Choo, and Christian Louboutin, but those days are gone. The luxury shoe market is saturated and it's a very positive thing. I discovered Tabitha Simmons when shopping on one of my favorite websites, Moda Operandi. I purchased the most amazing red, Mary Janes, featured here. Those shoes were one of the best purchases I have made. They are gorgeous and also exceptionally comfortable. Most of Tabitha Simmons shoes are made in exquisite fabrics and colors and are very feminine. This is definitely a designer to keep your eye on.
5) DeNada. I saved the best for last. DeNada is a local, DC based, brand that was founded and created in 2005 by Virginia Blanca Arrisueño. DeNada specializes in making the most beautiful alpaca wraps and scarves. I am honestly in awe of DeNada's many pieces, each has so much beauty and uniqueness. I recently purchased an amazing open weave infinity scarf and an oversized wrap from the current collection. However every time I look at the website or see DeNada pop up in my insta feed, I find something new I want to own! If you aren't familiar with this line, this is the one designer I would say you need to go online and take a look at, especially to enhance your fall and winter wardrobe.
Image Credits: 1) Nordstrom 2) Neiman Marcus 3) Kit and Ace 4) Barneys 5) DeNada
Some items I like by a few of these designers: