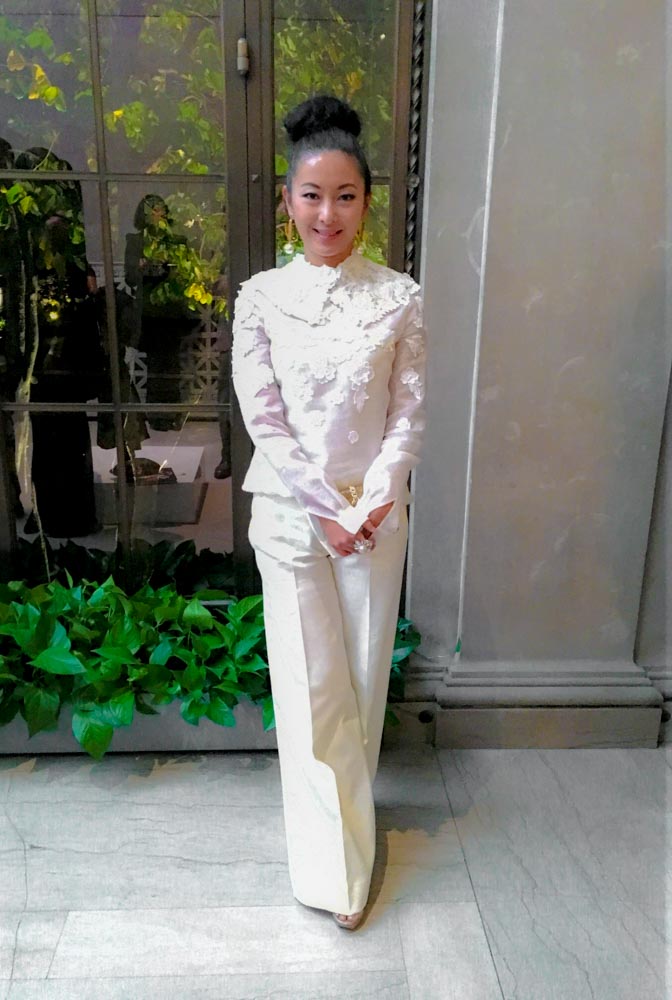 Last night I had the privilege of attending a very special event to celebrate the new book by Andre Leon Talley, Oscar de la Renta: His Legendary World of Style, at the Freer Sackler Gallery. The event began at 6:30 PM on what turned out to be an evening filled with post-work traffic and rain. Despite the timing of the event and other elements that could have created obstacles, everyone in attendance looked fabulous and was in great spirits excited to hear from the legendary Andre Leon Talley.
While waiting for the conversation to begin, one of my favorite DC fashionistas arrived looking stunning and dressed perfectly for the glamorous occasion. Dressed in all white, again it was raining, Anchyi Wei wore a beautiful lace Oscar de la Renta top that is a vintage sample and flowy white pants.
Anchyi is much more than a woman of style, she also has a day job outside of fashion that requires her to work traditional hours, is a wife and a mom to a two year old son, creates a beautiful jewelry line and has quite a few responsibilities on her plate. Anchyi is very similar to most women in DC, she is busy. So when she walked in looking breathtaking, I had to ask her "how in the world does this happen and where does it happen?" In response Anchyi was gracious enough to share some tips with me that she told me I could share with Politiquette readers.
Tips for getting ready in 20 minutes or less at the office:
(That's right, she put this look together on her lunch break and changed right before leaving work for the event. It all happened in 20 minutes or less.)
-Plan your outfit in advance.
-Take advantage of your office gym. This is not to workout, it's to shower, obviously.
-Bring your makeup, blowdryer, and whatever else you need to get ready to the office. (I would also suggest having a second set of these things that you leave permanently at the office.)
-Use your lunch break for multi-tasking.
-Have a steamer on hand! (Anchyi steamed her outfit before walking out the office door and heading to this event. This is is by far my favorite part of her prep that she shared and I can guarantee one of the most important things she did to complete her look.)
I appreciate a woman with a steamer. When I was in college I received a package from the shopping network and inside was a set of 2 yellow steamers that my aunt purchased on special for me. A large size and a mini travel steamer. I seriously thought it was one of the craziest gifts I had ever received. My aunt has taught me many important lessons about life, so I knew I would one day understand the value of her gift. I still have this travel steamer and it's kind of been a few years since I was in college. This travel steamer is one of the best items I own because I use it more than most any other item I own.
Steaming your clothes takes 5 minutes max and the difference in the way the clothes hang and appearance on you can be unbelievable! Look at Anchyi, she is perfectly pressed in white on a rainy night. Much respect to this lady.
Thank you again to Anchyi Wei for agreeing to let me feature her today and for sharing some of these little tips that can make any woman look and feel great with just a little extra prep time. Also, thank you to TAA PR for having me at this remarkable evening that I will treasure being a part of for the rest of my life.
In case you are now inspired to purchase a travel steamers, here are some great options: