ART
Dress by Proenza Schouler
Similar graffiti print dresses:
POLITICS
I was able to make the runway my reality when I recently found this incredible Proenza Schouler dress for a small fraction of its original cost. I love this dress and feel very lucky to have found it through careful scouring of the Nordstrom designer clearance sale. But having this dress made me want to replicate its runway look from Fall 2015 (see below).
The most exciting part of the runway look was the tights that Proenza Schouler used for styling. When I went to find the matching tights they were very overpriced and I would have been a fool to pay for the tights that cost almost as much as I paid for the dress. I still really wanted to replicate the look, so I thought about the last time I had seen similar tights trending and searched the internet for "punk tights." The search was a great success and I found these tights for under $5 on Amazon.
There are many ways to mimic runway style and most of the time it is easily available because this is how stores get their inspiration for production, but sometimes it takes a little more effort and creativity. The challenge to find pieces and integrate them into daily life is one of the things that makes fashion fun. That said, I know not everyone feels similarly and I do hope that Politiquette can help make that part of fashion easier for you and even challenge you to think of ways to recreate looks that inspire you.
Btw, can you even tell there is that much of a difference?!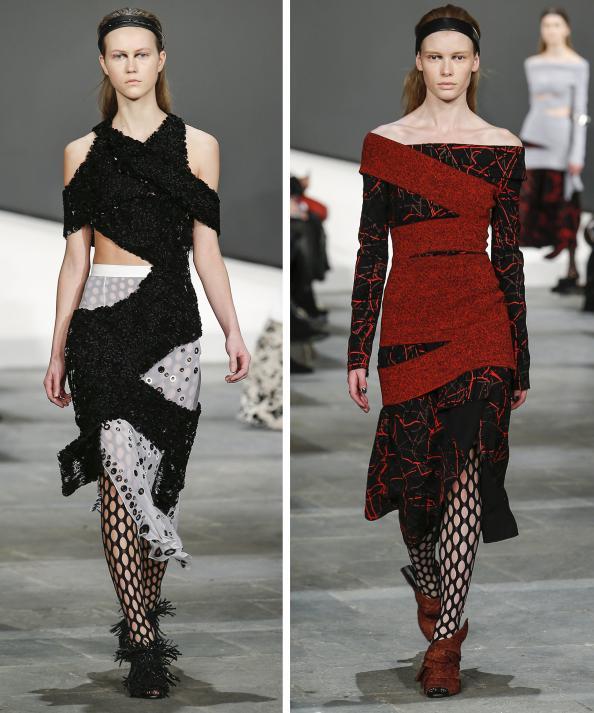 Image from InStyle
ETIQUETTE
Being back in like for real workmode an outfit similar to the one I have featured is perfect for the office. You may need to sub a pair of opaque black tights for daytime depending on where you work, but if you have any creative liberty with your office dress code I say go with the tights. I would also wear this outfit to a cocktail party. The tights allow you to create some very cool and new looks with an existing wardrobe and you can wear them in multiple settings.
Photo Information: Photos taken by Anna Meyer at the Hirshhorn Museum. The Backdrop is an installation by Barbara Kruger. You can read a great interview with her about the installation from the Wall Street Journal if you are interested in learning more.
Special Note:
Happy new year and welcome to 2016! I always feel like anything is a possibility at the beginning of a new year which is why Barbara Kruger's Hirshhorn installation "Belief + Doubt" is the perfect symbolic backdrop for my first post of the year.
I wish you a prosperous year ahead and I am looking forward to you joining me on my journey as Politiquette continues to evolve throughout 2016. Thank you for your support!