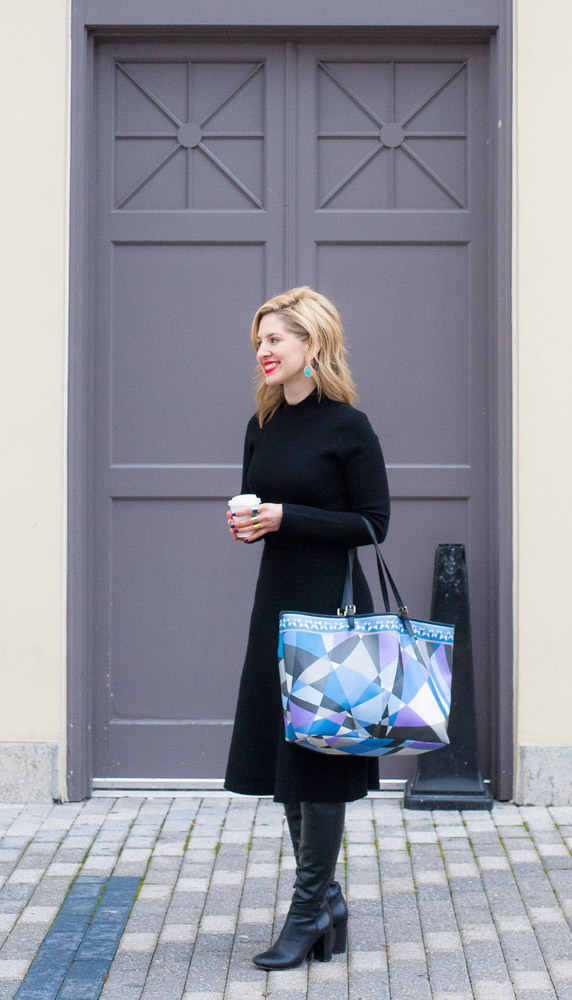 ART
dress by A.L.C.
"Andrea Lieberman debuted her ready-to-wear collection, A.L.C. in 2009. The eponymous collection delivers a refined canon of essentials through sophisticated, yet considered pieces that celebrate the notion of casual luxury, sartorial convenience, value and versatility. Confident and distinctive, A.L.C. is a direct reflection of what women want to wear and clear understanding of today's trends for the attention grabbing – never seeking – A.L.C. Girl." read more and shop on the A.L.C. website.

Styled with tote bag by Emilio Pucci (old, similar here); rings by Maison Margiela; clutch by FASHIONABLE (learn more details about this piece here)
You can find the same dress and other black dresses with details here:

POLITICS
I am sure I have said this before and I will likely say this again, but I love unique details on classic pieces. Like many women in DC, I have your number ladies, my wardrobe incorporates quite a bit of black. One of the thing that keeps my looks interesting are the details on these clothing items.
When I saw this A.L.C. dress at Barney's in Georgetown, I knew I would get a lot of mileage out of it and that the details gave this dress a lot of wow factor. A few conservative cut outs in the back is all it takes to change up the dynamic of a look and impress. These little slits also make this dress sexy and I'm barely showing any skin. Imagine that and take note!
ETIQUETTE
Details are amazing and make pieces standout, but they also dictate where you can wear a dress. The cutouts prevent me from wearing a dress like this to the office unless I put a jacket over the dress. I wore this dress of a reception with professional women though, but it was after hours. Be mindful of the setting when wearing detailed dresses like the one I featured today, especially when there are cutouts.
Photo Information: Photos taken by Anna Meyer at the Howard Theatre.