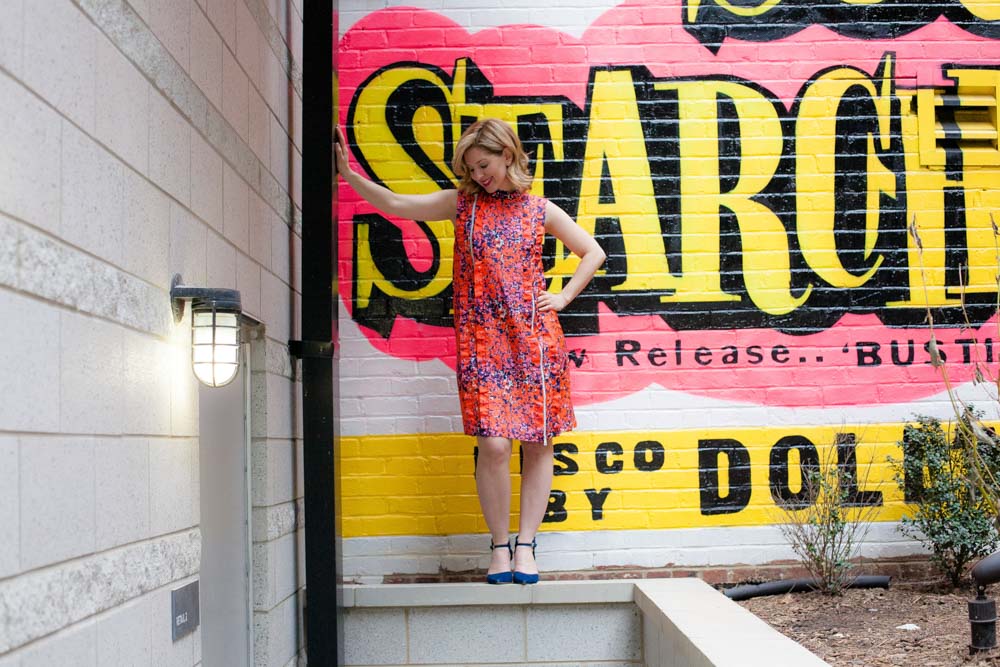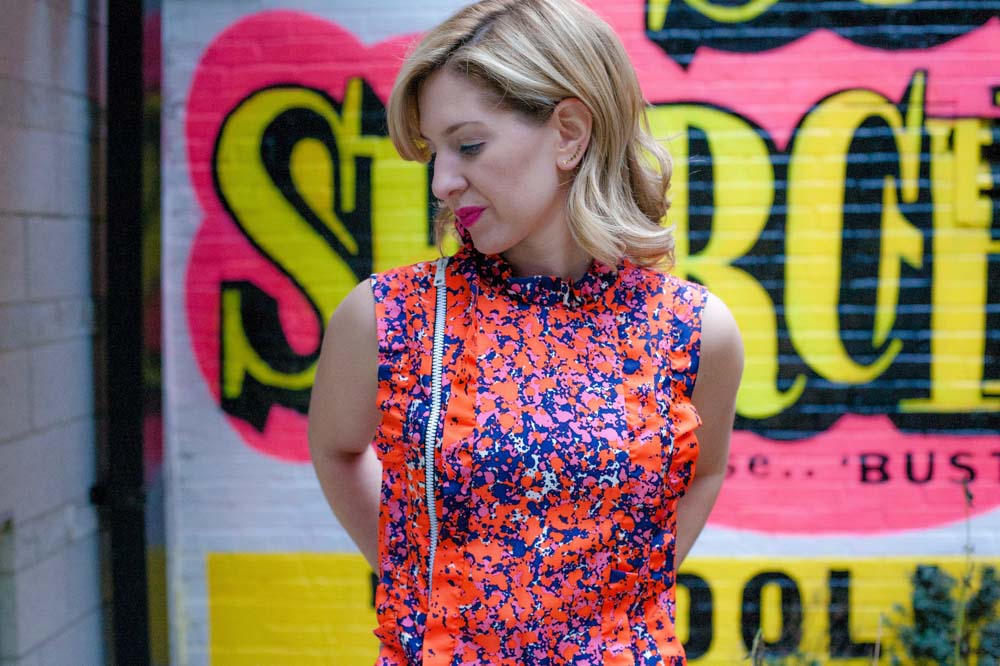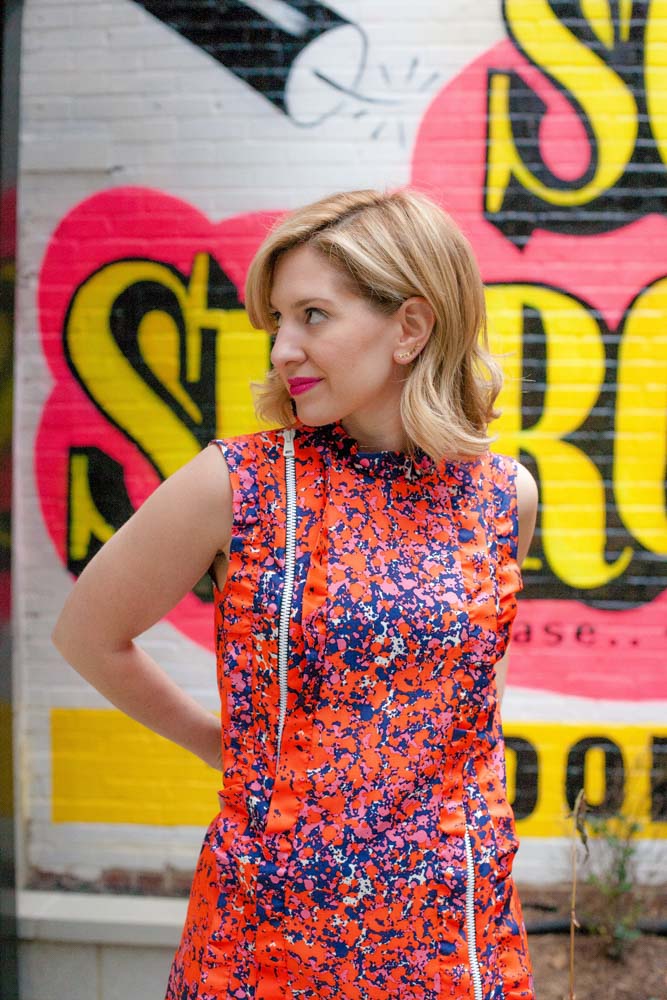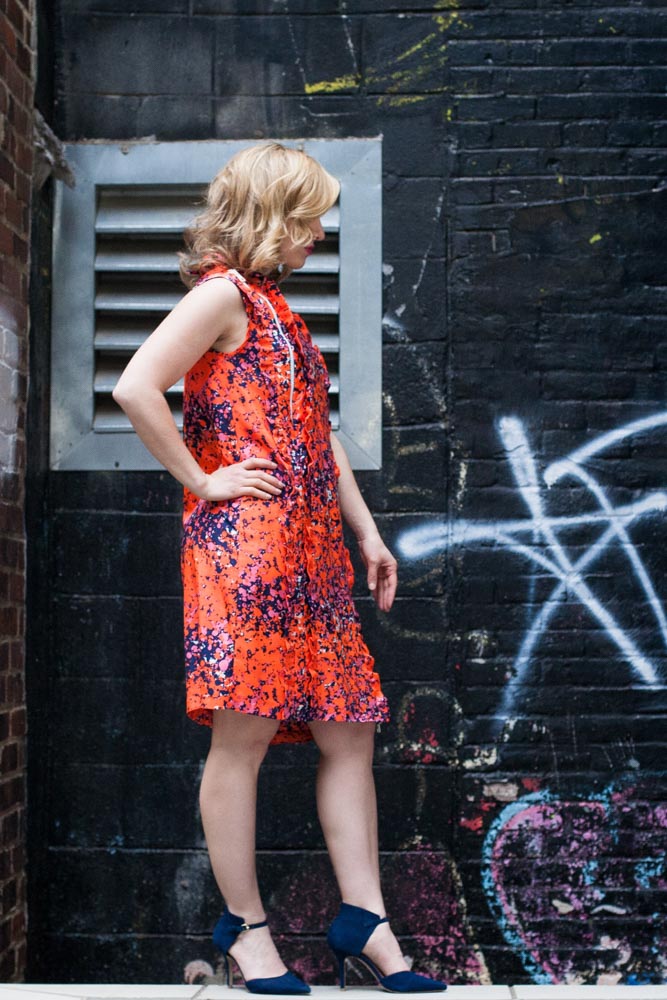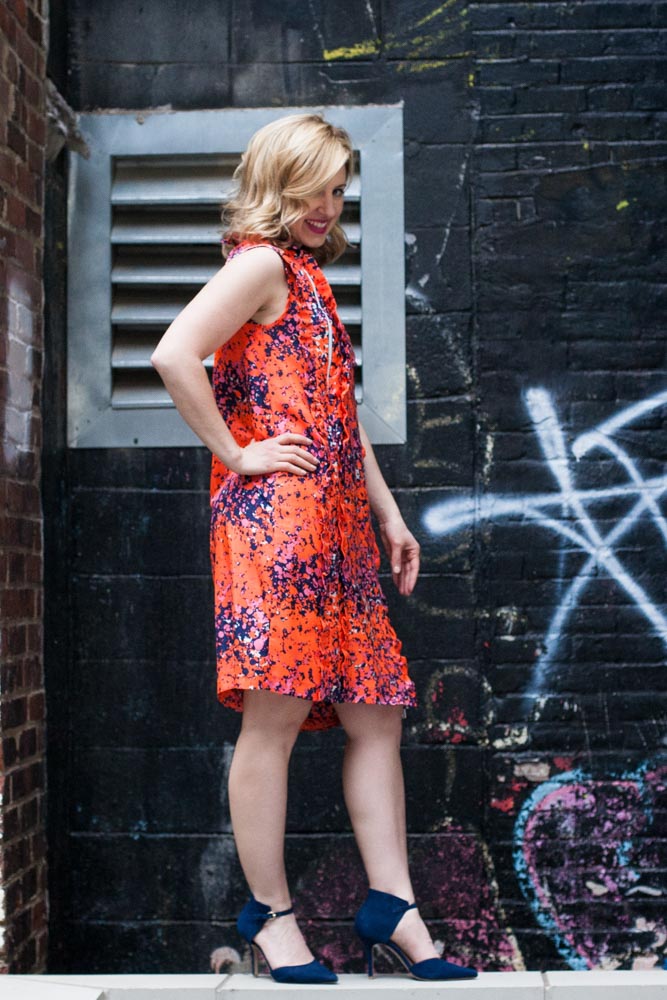 Dress by David Szeto | Shoes by Steven | Ear Crawlers by Gorjana
FASHION:
It was the early 1980s when I became dedicated to neon, I was in elementary school and I was living the neon dream. Unfortunately, as an adult, it becomes less appropriate and more of a challenge to wear head to toe neon without looking like a fool. I am so thankful designers have figured out ways to integrate neon into their designs so we all can re-live our hypercolor glory days. I have worn the dress I am featuring today many times for work and I have picked some other neon items I would also wear to the office that you can shop featured below.
Neon Everything! Here are some of my favorite, office appropriate, neon picks (you may need a blazer over some of the dresses):
ART:
When I saw this No Kings Collective (NKC) go-go mural at the Colonel I knew this dress was the perfect item to wear for my shoot. I am a big fan of the creative works of NKC and encourage you to check them out too. In fact, Lab 1270 at Union Market is hosting a NKC Pop-Up Installation beginning this weekend open to the public. More details about the pop-up can be found below.
*You have heard me talk about Lab 1270 before HERE featuring Ron David and HERE featuring Dunn Lewis MC.
Photo Information: Photos by Anna Meyer.
Union Market's Lab 1270 to House Two New No Kings Collective Pop-Up Installations
D.C. creative agency to launch inaugural "Animal Farm"-inspired exhibition April 8
Washington, D.C. (April 6, 2016) — D.C. creative agency No Kings Collective, in collaboration with Warsteiner USA, will launch a special double header pop-up design exhibition at Union Market's retail-plus concept shop Lab 1270 (1270 5th Street NE) this spring. NKC founders and partners Brandon Hill and Peter Chang will transform the 3,000-square foot mixed-use space during a two-month takeover of Lab 1270, turning it into an immersive fine art and creative retail experience.
The first phase of the build-out — THE BEASTS OF ENGLAND — launches April 8, anchored by an installation-heavy reinterpretation of George Orwell's classic novel Animal Farm. The exhibit will consist of large indoor painting, wood sculpture, taxidermy, 2-D art and colorful typography, as well as innovative elements such as a raised grassy knoll that will serve as a communal seating area. Guests will be able to interact with the installation physically and digitally through organic social media and dedicated hashtags for a unique environmental experience.
On May 13, NKC will launch a second installation called HUSTLE 2.0, a design-oriented sophomore showcase featuring signature typography, 2-D artwork, multimedia elements, sculpture and prints focusing on the core values of arts and entrepreneurship.
THE BEASTS OF ENGLAND — April 8 through May 7 — and HUSTLE 2.0 — May 13 through June 5 — are both free to the public and open for special nightly and weekly programming and events Thursday–Sunday, Noon-5 p.m. during their limited runs.
Through their two-part project at Lab 1270, NKC will create a creative flex space with pre-planned weekly programming, encompassing art, music, culinary and social elements with the intent of making the space a transformative environment, with an ever-changing look, feel and purpose.
"Having the opportunity to bring our ideas to life at Union Market and within Lab 1270 is such a creative boost of energy for us," says No Kings Collective co-founder Brandon Hill. "The Union Market district is such a vibrant and important community in the city, so it only makes sense that we'd want to create and curate and come up with new concepts at a place that feels like home for us."
For more information about Lab 1270, visit www.unionmarketdc.com/lab1270 and to learn more about No Kings Collective @ Lab1270, visit www.thebeastsofengland.com and www.hustledc.com.
ABOUT LAB 1270:
Lab 1270 is a retail plus concept shop with in Washington, D.C.'s sprawling Union Market district. Lab 1270 is a 3,000-square foot mixed-use space that is a lively retail, experience, and work space. Located on 5th Street catty-corner to the market, the space offers market-goers various opportunities to support established and emerging retailers and artists. For more information about Lab 1270, please visit www.unionmarketdc.com/lab1270.
ABOUT NO KINGS COLLECTIVE:
No Kings Collective is an agency based out of Washington D.C. Composed of and run by local artists, No Kings Collective serves a community of area artists, businesses and city organizations through social networking events, exhibits and special projects. Over the last five years, No Kings Collective has gained local and national recognition for flash art exhibitions and temporary gallery spaces, providing new and exciting social events to promote a thriving art community in the nation's capital. For more information, visit www.nokingscollective.com. Follow No Kings Collective on Instagram and Twitter.