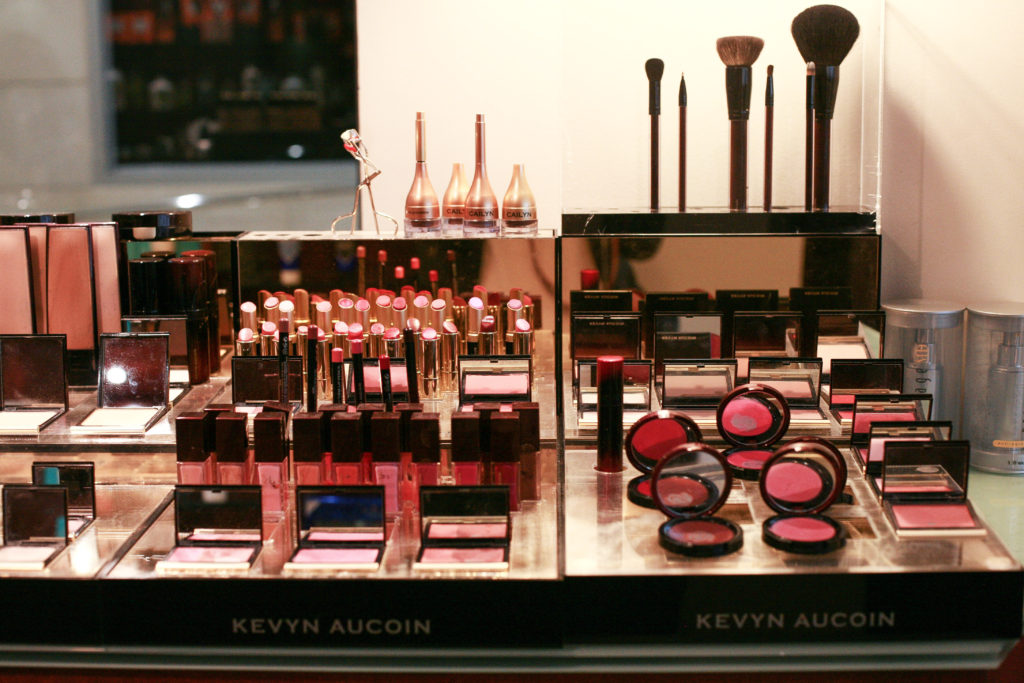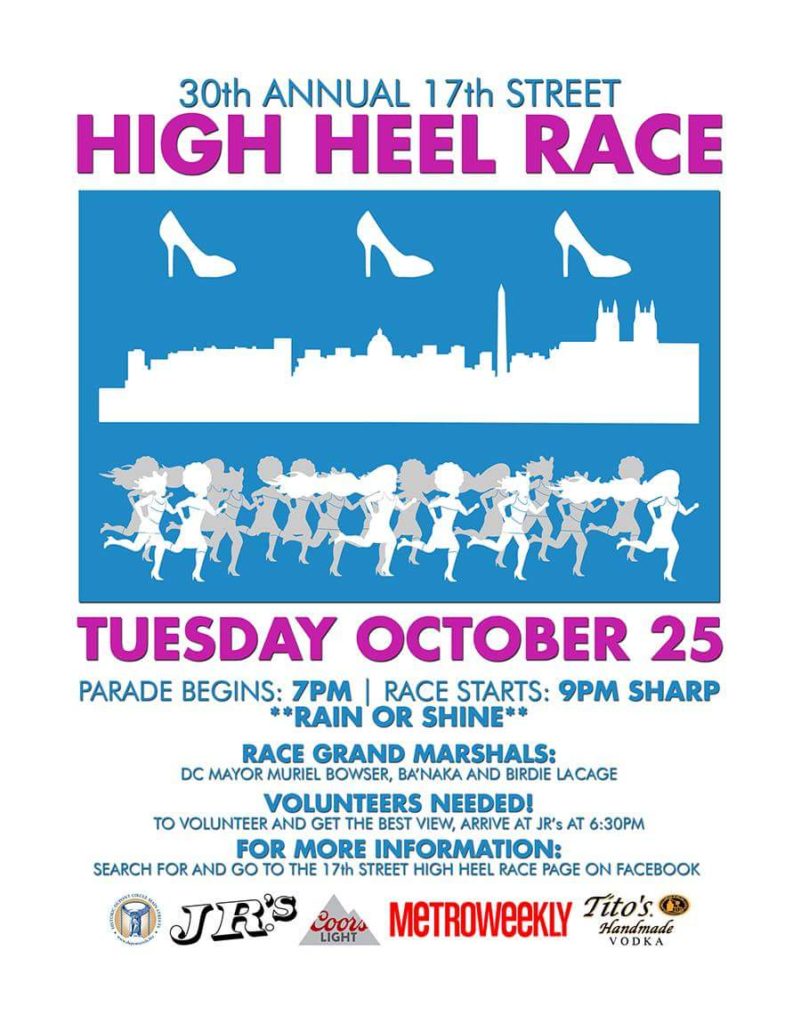 Every October in Washington, DC the spectacularly festive 17th Street High Heel Race featuring costumed drag queens is held as a benefit for charity.  The High Heel Race has been going on since 1986 and benefits the Historic Dupont Circle Main Streets, a 501 (c)(3).
Some of my friends have recently reached out to ask for makeup tips and/or if I could help them with makeup application.  This made me think it would be helpful to put together a guide of how to prep skin and what items are needed in a drag queen's makeup kit – it's not much different than my own daily kit.
I consulted Celadon Spa's makeup artist, Melissa Hurley, to make sure the list that I provided was comprehensive.
Makeup Kit Must Haves

Razor – you want to be clean shaven.
Skin exfoliant – to remove skin buildup.  Make sure you test this product prior so you don't break out or irritate your skin the day of!
Face moisturizer
Makeup primer to help your makeup last throughout the long evening.
Foundation to match your skin tone – see more tips on this below.
Concealer for spots, under eyes, etc.
Lipstick or lipgloss to go with the identity of your costume.  For example, if you are dressing like Melania Trump a nude, plumping gloss would be appropriate, but for Gwen Stefani a bright red is the way to go.
False eyelashes and eyelash glue, you want to be more dramatic than everyday and make a statement with your look.
Contouring powder – very important for shaping the face.
Blush, something that works with your skin tone and costume.
Eyeshadow kit with multiple colors for options and a defined eye.
Black mascara – don't share this product I won't go into the gory details.
Eyeliner (for a cat eye get liquid eyeliner, for any other look a regular eyeliner in black or a color if it works for your costume) – another item to not share.
Makeup brushes for contouring, brow shaping, eyeshadow, blush, powder.
Tweezers because you never know.
Q-tips for corrections.
Makeup remover wipes for the end of the night.
Bobby pins and rubber bands for any wig/hair needs if your wig is not already set.
More tips via Q&A with Melissa Hurley of Celadon Spa:
1) What are your thoughts on priming for makeup?  Exfoliation?  Special products or primer?
Yes, exfoliation is key to a smooth makeup application. Dermalogica makes a great daily exfoliator that will help you maintain a clear complexion, or for a more intense effect, Eminence pear & poppy seed microdermabrasion polisher is great to bring out your skin's natural glow. For a primer, I would recommend Kevyn Aucoin's primed skin developer, which is great for all skin types. It will help create an even base for your makeup, as well as give your makeup staying power.
2) How does someone go about matching their foundation to their skin tone?
I always match foundation directly on the face, close to the jawline. As a general rule, if you can't decide between 2 shades, go with the lighter one, as the natural oils in your skin tend to darken your foundation as the day goes on.
3) What are makeup/product must haves?
A good concealer-Kevyn Aucoin's sensual skin enhancer is a must have-it is a hybrid foundation/concealer, that can be used anywhere on the body (it can even cover tattoos). It is very concentrated, and can be built up to give you maximum coverage. It can also be used as a contour or highlight.
A good contouring powder, such as the Kevyn Aucoin medium sculpting powder, which will give you a natural shadow under the cheekbones, that mimics definition at the hollows of the cheeks. It's a makeup artist staple product.
Good quality brushes to give you the most professional results (all of the Kevyn Aucoin ones are good), and or a beauty blender makeup sponge for an airbrushed look to your foundation.
4) Any eyelash application tips?
Measure the lashes up against your natural lash line to make sure the length is correct, trim if necessary, apply a thin strip of glue to the lash base, and let the glue dry for a few seconds before applying, so they don't slide around on your skin. And don't be afraid to ask for help with application. 😉
5) Anything else?!
My favorite simple trick to bring attention to your lips is to apply a little lip gloss in a shade lighter than your lipstick right to the center of your lips to give them more pop!
You can also book a professional makeup session for this event and purchase all of the products recommended by Melissa at Celadon Spa.