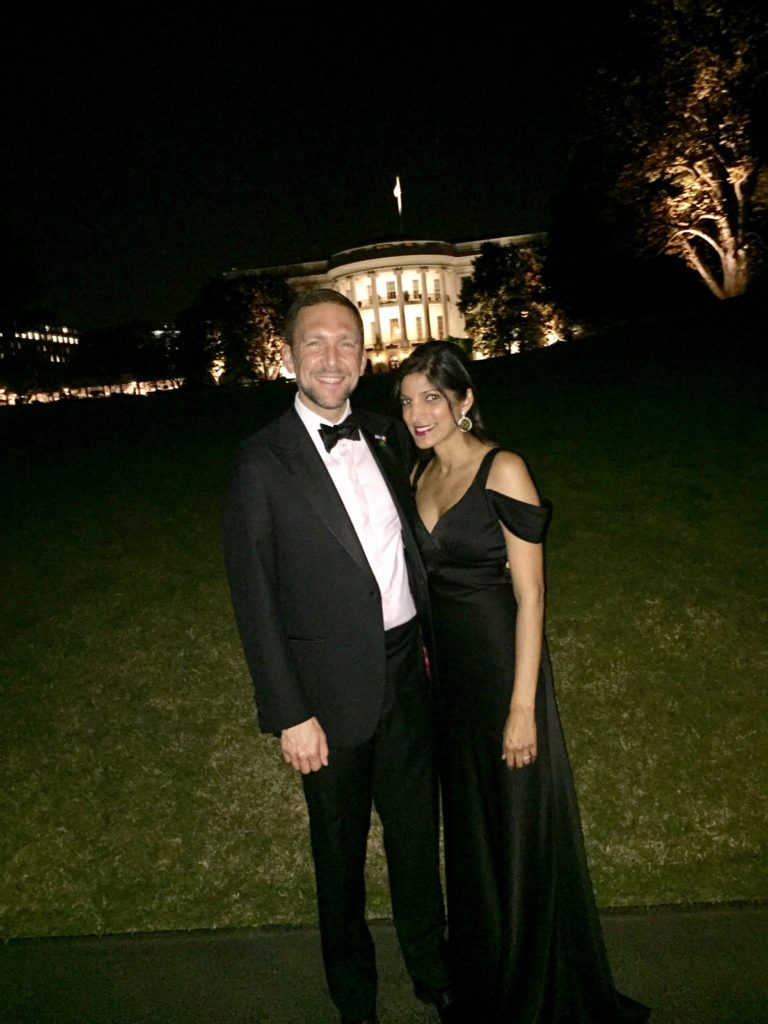 Ambassador Peter A. Selfridge and his wife Parita Shah at the Italy state dinner image c/o
Today the United States Chief of Protocol Peter A. Selfridge and his wife Parita Shah in partnership with ELLE Editor in Chief Robbie Myers will host an event to highlight the role of fashion in diplomacy, Diplomacy by Design.
The event will bring together the diplomatic community and leaders in the American fashion industry for an engaging panel discussion to explore the role of fashion in international diplomacy. The event features a panel, moderated by Robbie Myers, with Robin Givhan, Fashion Critic of the Washington Post, Steven Kolb, President and CEO of the Council of Fashion Designers of America, and Fashion Designer Derek Lam, Designer.
I am honored to have played a role in the planning of this cultural and historic initiative that combines both my professional experience and passions, politics and fashion.  Today's event marks the first time that the Office of Protocol has held an event to explore the cultural role fashion plays in diplomatic affairs.
Ambassador Selfridge heads The Office of Protocol at the Department of State. One of his many responsibilities includes engaging the Diplomatic Corps for opportunities to learn about and experience American Culture. The Ambassador's programming has focused on topics such as American cuisine, music, and literature, but this is the first time that the global impact of fashion has been featured.
It seems appropriate that this event is taking place during an Administration with a First Lady who has made fashion a part of her legacy. Michelle Obama brings a fashion message during her official activities on a daily basis, often providing exposure not only to emerging American designers, but to designers from all over the world. That is not to say that Mrs. Obama does not honor fashion's household names too. For example, this past week at the final state dinner honoring Italian Prime Minister Renzi and his wife, Agnese Landini, Mrs. Obama wore one of her boldest looks —  a rose-gold, chainmail gown designed by Italian designer Atlier Versace.  The gown was worn as a way to pay tribute to Italy.  The gowns Mrs. Obama has chosen for other state dinners, as well as all of the clothes she has worn as First Lady have all been selected with similar intent.  One of the first memories I have of Mrs. Obama using fashion as a diplomatic tool was during her husband's first term.  She traveled to South Africa, and many of the items she wore were a part of the ASOS Africa line.  In addition to honoring the region of the world that she was visiting, she chose pieces that not only helped provide jobs to Kenya's underprivileged communities, but were financially accessible for large audiences to purchase.
Fashion has been used throughout history to make political statements. Former Prime Minister of the United Kingdom Margaret Thatcher was known for using her handbag as a political tool during negotiations and political meetings.  In a similar way, former Secretary of State Madeline Albright used the pins she wore to send diplomatic messages.  "I was the only woman on the Security Council, and I decided to get some more costume jewelry. On good days, I wore flowers and butterflies and balloons, and on bad days, all kinds of bugs and carnivorous animals. I saw it as an additional way of expressing what I was saying, a visual way to deliver a message," Albright told Smithsonian Magazine in 2010.  She has written a book about the meaning of her pins, Read My Pins: Stories from a Diplomat's Jewel Box.
Many other names currently resonate with fashion diplomacy the Prime Minister Narendra Modi of India known for wearing his signature look that inspired a hashtag, #KurtaModi; Britain's new Prime Minister Theresa May and of course The Duchess of Cambridge Kate Middleton are both known for promoting British designers; the President of Liberia Ellen Johnson Sirleaf who wears gorgeous, colorful African inspired suits; and the President of Bolivia Evo Morales who does not dress up and dresses in casual everyday wear to relate to others and represent his roots.
Fashion crosses cultures and is a universal point of reference, making it a perfect medium for diplomacy.  I think of American inventor Levi Strauss who invented denim in 1890.  He made a mark on America's fashion history and identity forever. Americans' eternal love of denim jeans can be seen around the world, with Levis forever branded as 'the original.'
Technology has also played a role in the accessibility of fashion.  Platforms like Tumblr, Instagram, YouTube and Twitter have turned bloggers and vloggers from all over the world into fashion icons, created a powerful forum for designers to gain notoriety, and have allowed every person with access to the internet to have a front row seat at most fashion shows.  E-commerce giants, such as Amazon.com and eBay, have allowed people to gain access to sought after fashion items they want from all corners of the map.
These are just a few simple observations of fashion's role in diplomacy, and I am very much looking forward to learning more from the experts featured on the panel tonight. I will be sure to share more insight, updates and highlights throughout the evening — stay tuned!
Follow along at #DiplomacyXDesign
Wearing my panda pin in honor of President Xi's visit. Guess I'll have to call it Bei Bei now! #USChina #tweetmypins pic.twitter.com/mhgx6i0WB4

— Madeleine Albright (@madeleine) September 25, 2015